To view more White Tiger Tantra Videos Click Here>>
Sex Study Says Female Orgasm Eludes Majority of Women – ABC News (At White Tiger Tantra…we disagree)
How to Find A Woman's G spot & Release Orgasms
1. G Spot Orgasms: Prepare For Your Adventure
After she's gone pee, find a safe and comfortable place where you both won't be disturbed… Shut off your phones and any other potential distractions.
2. G Spot Orgasms: The Crown Jewel of Orgasms
Remember that this is the time, to just take some time to discover the crown jewel of your woman's buried treasure. All
G spots are located in the area about 2 inches inside the vagina, on the vaginal wall closest to the stomach.
G spots can vary in size; some can be smaller than a dime or as large as a half-dollar.
The G spot is not really a 'spot' in the vagina; rather it's a sensitive nerve bundle in an area of spongy erectile tissue that can be stimulated and aroused.
3. G Spot Orgasms: Tease Her & Please Her
Tantalize her and let her fantasies take her away into that place of feeling sensual, sexy and all turned on.
This would be the perfect time to practice a sensual touch meditation— like the ambiguous touch meditation described in The Sensual Shaman's Diaries— or to give her a slow sensual massage.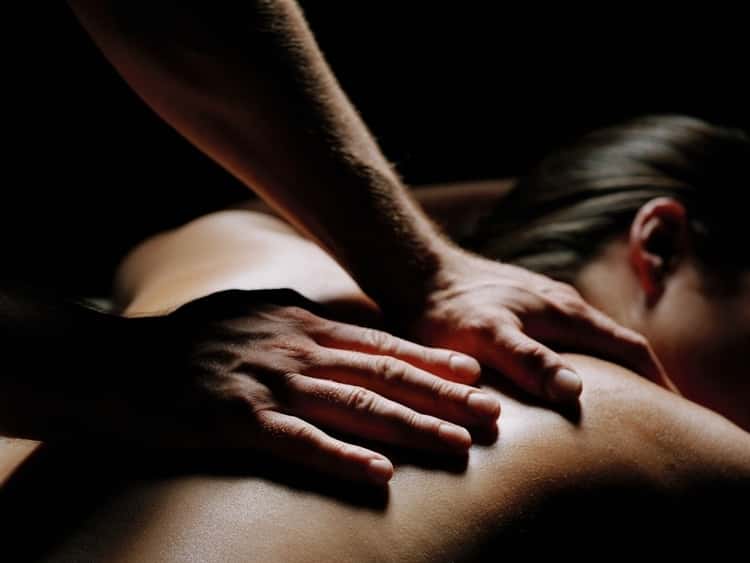 When a woman is aroused the G spot swells up and it is much easier to feel the distinct (prune like) ridges rising up out of the smooth front wall of her vagina.
4. G Spot Orgasms: Bonus Tip
The more a woman is aroused, the more engorged her G spot becomes. Also the more often she anticipates having her G spot massaged, the more quickly she will become aroused.
When you massage around an engorged G spot— with varying pressures and rhythms and pressure point techniques— you can discover a woman's unique Sacred Pleasure Points.
As seen in the video above, in less than a few minutes the woman released a full body pleasure cocktail.
She was Love Drunk on this pleasure cocktail for many hours.
5. G Spot Orgasms: Get Her Positioned For Ecstasy
In the White Tiger Tantra videos, a woman is made comfortable on a massage table. T
Then to prepare the woman for the G spot massage they place a massage bolster beneath her lower back and buttocks and as she pulls her knees back toward her chest, the G spot becomes more prominent.
This is a great position to explore how to give a G spot massage and how to release G spot orgasms.
6. G Spot Orgasms: Massage Secrets & Tips
Inside the vagina there are over 8,000 nerve fibers that interact with over 15,000 nerve fibers in the pelvic region.
The majority of these nerve fibers end in various areas around the vulva such as the clitoris.
This tiny love button is merely the proverbial tip of her sensual iceberg.
7. G Spot Orgasms Massage: Quality Over Quantity Always Wins!
Once you've found the G spot, here's three massage techniques to explore how to stimulate it. Before entering the vagina, make sure your nails are cut short and ALL rough edges are filed off.  Cuts and scratches in delicate areas are never sexy!
Also, always use a natural lubricant like organic coconut oil to avoid irritation.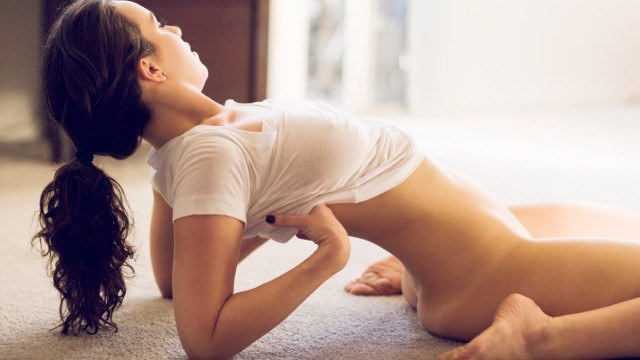 In White Tiger Tantra, the yin position is placing two well-oiled fingers at the back of the G spot and applying varying pressure with a "come hither" movement.
The second technique is called "Windshield Wipers".
Place one hand on your woman's belly between her naval and pubic bone or Mound of Venus as it is called.
Apply firm but steady pressure to her belly, and use 2 fingers to move back and forth across her G spot like the wipers on a car windshield.
The final technique we will discuss is G spot circles. 
Apply pressure to your woman's belly just like before, but this time make circles around her G spot with your fingers.  Vary the technique with small circles and large circles, clockwise and counterclockwise.
With all these techniques, use varying pressure, speed and rhythms.
Most importantly, let your woman's response be your guide.  
Pay close attention to when the fine hairs on her body stand up or her skin goose bumps; pay attention to when her nipples become instantly erect… When you notice any of these signs, make a MENTAL NOTE of this spot that will keep her in suspense…wondering where you are.
When your woman grabs your hand with reckless abandon and pushes back against a spot you are massaging, you're giving her memories of love that's come alive!!
Please make a BIG MENTAL NOTE of the spot! This is the X that marks her G spot for hidden treasure.
8. The G Spot Orgasm Affect: How to Tell When Your Woman is About to Have a Deep Orgasm!
Her breathing will shift to her lower belly and become rhythmic.
At the same time, her butt cheeks will clench and her toes will curl down, as she is about to release the floodgates of Love Nectar.
9. G spot Orgasm positions: Two Ways to Share the Love With Your Woman
The first position is called the Princess on the Throne – It will make her fairy Tales come True!  With the man lying down, she places herself on his erection facing towards his feet.
She can explore her ecstasy by moving her hips and pelvis around to massage the G spot, while placing her fingers between her naval and pubic bone and massaging her stomach in circles or back and forth.
The Two Preferred G Spot Orgasm Doggy Styles
The first variation is the traditional doggy style where the man enters the woman from behind while she is on her knees and hands or elbows.  The second variation is to have your woman lie on her belly (often with a pillow under her hips to elevate them) as her man enters her from behind.
She can lay with her legs together so his knees are outside her legs.
Invest in a massage table for two reasons.
It can become a sensual alter for your relationship.
Secondly, if your woman ejaculates a large amount of fluid, which many women do during G spot orgasm, it can be much more readily cleaned than a mattress.
10. G Spot Orgasms: Mental Notes
Have Fun With G Spot Orgasms Without Having Any Goals
If your woman gets concerned about whether or not she'll actually achieve G spot orgasms she may release stress hormones. Those protective stress chemicals work against the nice relaxed sensual state of letting go and fully surrendering to the pleasure.
However, if you both share pleasant thoughts about the sensual adventure you're about to experience, then it will show in your attitude and in the mind and body connection…you have with each other.
Recent studies by a neurologist known as 'The Nerve Hunter' describe how all organs are connected directly to the brain through the Vagus nerve. The Vagus nerve functions as a sensory input and output channel between your body and brain.
The largest organ of the body is the skin.
When your skin is properly stimulated, on the inside or the outside, it becomes the largest sex organ of your body.
Obviously, you probably already know the more you keep a positive attitude, the more positive you can create powerful results. Can you imagine how much fun you both will have awakening her Sacred Pleasure Points that release her G-spot orgasms?
So just relax into the experience… remember that as it is with life, it's not in the arrival, but in the journey you will find the moments you can treasure for the rest of your life.