Although Most Women Can Achieve Female Orgasms… 
Can you imagine how surprised women— who've never had any orgasms— feel when they release their first series of female orgasms?
Some women are so amazed, they become speechless. While other women become confused… yet confusion is just the first step of discovering something new.
Sometime, somewhere, some women build doubts about their ability to have sustained full-body orgasms. However, as they awaken toe-curling climaxes that release spasms of blissful pleasure— with an afterglow that cascades for hours or even days— all those doubts are dampened.
Still, full-body female orgasms produce more than just hope. They create memories of success. The more often a woman has these memorable experiences, the more she will encode a neurological response of sensual anticipation. 
Beyond Awakening Female Orgasms…
She Also Achieved Full-Body Ecstasy… For additional White Tiger Tantra Videos Click Here>>
The woman in this video just experienced how yoni massage releases a pleasure cocktail that floods through her entire body…
Useful System To Release Female Orgasms
1. Tips For Female Orgasms: Prepare For The Adventure
Before you start the sensual massage, remember that yoni massages can release fluid through the urethra. At first, when women get their G-spots massaged, they may feel like they have to pee. So have them go to the bathroom.
So after she's gone pee, find a comfortable place where you can explore how female orgasms are released.
When you both set up the massage table, with fresh sheets, it builds sensual anticipation. This sets the right calm yet relaxed mood.
Shut off your phones and any other potential distractions so you won't be disturbed.
2. Tips For Female Orgasms: The Crown Jewel of Orgasms
NOTE: Before entering the vagina, make sure your nails are cut short and ALL rough edges are filed off.  Cuts and scratches in delicate areas are never sexy! When you massage a G-spot always use a natural and unscented lubricant like organic coconut oil to avoid irritation.
Remember, just take your time as you explore how the body of the woman you're working with is awakened. This internal G-spot massage is amazing!!
Locating the G-spot is really pretty simple. Probe the vaginal wall closest to the stomach, in the area just about 2 inches inside the vagina.
When you find the G-spot, slowly massage this touchstone of bliss to release the crown jewel of female orgasms. Below are three massage techniques that will add to your yoni massage repertoire.
Keep in mind, the slower you go, the sooner you'll release her buried treasure of pleasure.
G-spots vary in size. Some can feel smaller than a quarter or as large as a silver dollar. With repeated stimulation, many G-spots will increase in size as the woman relaxes into the experience.
NOTE: Women's G-spots are not really a 'spot' in the vagina; rather G-spots are a sensitive nerve bundle in an area of spongy erectile tissue that can be aroused to release female orgasms.
3. Tips For Female Orgasms: Relax Her, Then Please Her
We suggest before giving a yoni massage, take time to relax her. Then slowly sensually arouse some their hidden pleasure zones.
Along with building comfort and anticipation, this creates a mind-body connection that leads to a full-body sensory experience.
Start with a slow traditional massage. Next, introduce the sensual massage as seen in our Yoni Massage videos.  Then as the pleasure cocktail begins to permeate her body… slow down!!
At this point, tantalize her with an ambiguous touch session. This will prepare the body to release full-body female orgasms. The ambiguous touch session— described in The Sensual Shaman's Diaries— also amplifies a powerful mind-body-yoni connection that stimulates the erogenous zones.
This also lets her fantasies take her into that place of feeling sensual, sexy, and completely turned on.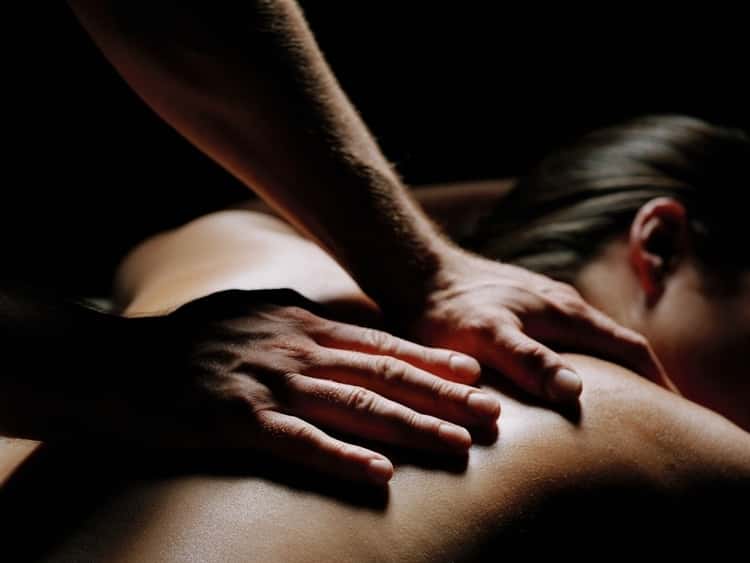 NOTE: When women become aroused their G-spots swell up and it is much easier to feel the distinct (prune-like) ridges rising up out of the smooth front wall of their vaginas.
4. Tips For Female Orgasms: Inside Secrets
The more confident women are about achieving female orgasms, the more they'll strengthen their sensual responses to yoni massage. As women become comfortable with sensual massage they usually release more fluids with their climaxes.
However, remember not all G-spots are created equal!! When you massage a woman's G-spot use a variety of pressures and rhythms and you'll awaken her unique pleasure points.
When women release full-body orgasms, simultaneously their brain produces a natural (Love Drunk) euphoric state. Some women notice how this experience improves their lives with an increased sense of well-being and sensual harmony.
5. Tips For Female Orgasms: Positioned Her For Ecstasy
In the White Tiger Tantra videos, a woman is made comfortable on a massage table to prepare her for a sensual massage session.
Then to prepare her for a yoni massage, a massage bolster is placed beneath the lower back above the buttocks. As women pull their knees back toward their chest, their G-spots protrude and are much more accessible.
There are between 5,000 to 8,000 nerve fibers in a vagina that interact with 15,000-plus nerve fibers throughout the pelvic region. The majority of these nerve fibers end in various areas around the vulva.
Many of these sensual nerve fibers also run through a woman's G-spot. and up to the external part of the clitoris. That tiny love button that's at the tip of her mound of venus.
When all of these nerve fibers are properly teased and massaged they send sensual inputs directly to the brain. This sets in motion a concert of the mind-body-yoni connection that orchestrates a full-body orgasm response.
6. Tips For Female Orgasms: 3 Nice Massage Techniques
The 1rst technique, to awaken great female orgasms with G-spot massage in White Tiger Tantra is called the yin technique.
If you place two well-oiled fingers on the back of the G-spot, then while applying varying amounts of pressure to the G-spot's surface, bring your fingers forward with a "come hither" movement… soon her hips will start moving in a rhythm to climax.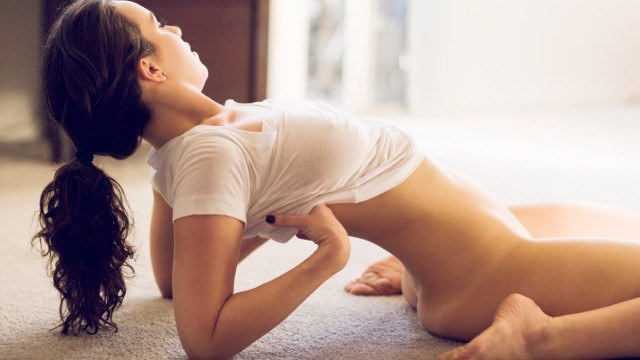 The 2nd technique, to awaken great orgasms with G-spot massage is called "Windshield Wipers."
Place one hand on a woman's belly between her navel and pubic bone or Mound of Venus.  Apply firm and steady pressure to her belly, and use 2 fingers to move back and forth across her G-spot like the wipers on a car windshield.
The 3rd technique, to awaken great orgasms with G-spot massage is to circle around G-spots. 
Apply pressure to the woman's belly just like before, but this time make circles around the G-spot with your fingers.  When you circle G-spots vary your technique making small circles and larger circles.
Also, as you circle women's G-spots be creative, go clockwise and counterclockwise and use varying pressure, speed, and rhythms… continues this technique even as her orgasms are flowing.
7. Tips For Female Orgasms: Notice Her Body Signals
It is important to let your woman's responses be your guide.  
When arousing G-spots and full-body female orgasms, pay close attention to the woman. Notice if the fine hairs on her body stand up or the skin goosebumps; then pay attention to her nipples.
During this kind of massage, quite often nipples will spontaneously become erect.
When giving a yoni massage, as a woman suddenly shifts her breathing to the lower belly and it becomes very deep and rhythmic, her love juices will soon be gushing.
Also, when female orgasms start to flow, some women will suddenly grip your arm firmly and push back against you with wanton desire.
Observe how just before she releases the floodgates of pleasure, she'll clench her butt cheeks and her toes curl down.
If you notice any of these signs during her orgasm, make MENTAL NOTES of these areas you massaged!! These places mark a woman's unique spots for hidden pleasure.
8. Tips For Female Orgasms: Just Have Fun
Explore Yoni Massage Orgasms… Without Having Any Goals
If women are concerned about whether or not they can achieve orgasms they may release stress hormones. Those protective stress chemicals work against the relaxed sensual state of letting go and fully surrendering to the pleasures of yoni massage.
However, when she anticipates how wonderful the sensual adventure is going to be, then her mind and body will work together to respond to the sensual pleasure.
Skin: The largest organ of the body, can become your largest pleasure source.
When your skin is properly stimulated, on the inside and the outside, it becomes the largest sex organ of your body. This can help cascade the pleasure of female orgasms through a woman's entire body.
Recent studies by a neurologist known as 'The Nerve Hunter' describe how all organs are connected directly to the brain through the Vagus nerve. The Vagus nerve functions as a major sensory input and output channel between your body and brain.
Obviously, you probably already know the more you keep a positive attitude, the more you can create positive results exploring how orgasms cascade full-body ecstasy.
Enjoy the experience… remember that as it is with life, it's not in the arrival, but in the journey, you will find sensual pleasure, you can treasure for the rest of your life.